Russian Ambassador to Turkey Seriously Injured

Russia's ambassador to Turkey has been seriously wounded in an 'assassination attempt' that was allegedly in retaliation for the crisis in Aleppo.
The gunman reportedly said in Turkish "We die in Aleppo, you die here" before opening fire and injuring Ambassador Andrei Karlov and at least three others.
Mr Karlov was reportedly in a critical condition in hospital after was shot as he delivered a speech at an art gallery in the capital of Ankara.
The attacker fired a shot into the air as the ambassador spoke and then shot him at least once in a suspected radical Islamic attack, the Hurriyet newspaper reported.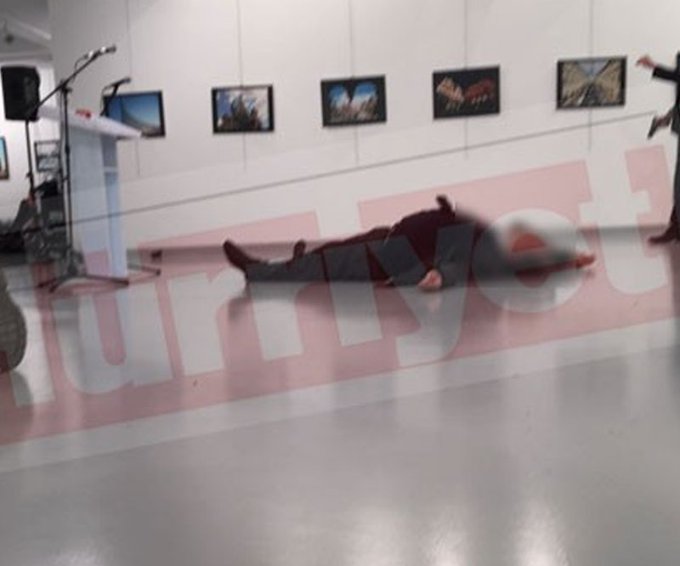 #CANLI Saldırıda büyükelçi dışında da yaralıların olduğu belirtiliyor http://buff.ly/2h3SWUD
Ragıp Soylu @ragipsoylu

PHOTO: Just minutes before the attack, Russian Ambassador was pictured during his remarks in Ankara (Ecenur Çolak – Anadolu Ajansı)
The gunman allegedly entered the gallery with police identification.
Three others were reportedly wounded as the shooting continued and people fled for their lives.
It was unclear whether the gunman had been detained.
Photos published online by Turkish media showed Mr Karlov and a second person on the floor after being wounded.
Mr Karlov was attending the opening of an exhibition at Ankara's Centre for Contemporary Arts when the gun attack occurred.
The Kremlin said Russian President Vladimir Putin has been briefed on the attack.
Russia is Syria's most powerful ally and has played a significant role in the Syrian government's attempts to eradicate rebel groups.
In recent weeks pro-government forces have made rapid advances on rebel-held territory in war-torn Aleppo, leaving many people dead or wounded.
After rebels were driven into an enclave in eastern Aleppo after heavy bombing a ceasefire was brokered by Russian and Turkish officials.
It included a plan to evacuate thousands of rebels and civilians, including women and children, from Aleppo to rebel-held territory in Idlib province in north-western Syria.
Click Here To See our Survival and Preparedness Solutions!